How to use Tailwind to boost your Food Blog
How to use Tailwind to Boost your Food Blog
This post contains affiliate links. Read my disclaimer for more.
Tailwind is one of the most interesting and helpful tools out there for bloggers and business owners alike. Today I'm going to tell you how using Tailwind has helped me enhance my Pinterest and now also, my Instagram experience.
Tailwind started as an analytics tool for Pinterest, growing quickly into a very neat scheduler. You will get the most out of Pinterest if you are active and share quality pins, but beware, if you do not want to be "blacklisted" by the Pinterest algorithm, you need to share more than your own content. The same rule applies here as for all the other social media channels: share 80% other people and 20% your own content. I have enjoyed Pinterest for many years, pinning manually most of the time. But some days I just don't have time to pin, and that is when Tailwind becomes my right hand. I scheduled several pins so I am sure I am posting every day.
You need to do to make sure Tailwind works for you, and you do that by joining group boards related to your blog's niche and join tribes, which by the way, are free to use. Now, let's have a look at what you can do with Tailwind and how can it help you grow your blog, or even, your small business:
Scheduling Pins: You can schedule several pins a day and choose what time you want them to be published. Tailwind offers suggestions about time, but you can easily change that. Once you have some pins in place you can shuffle the queue, a feature that I use a lot when I want to promote my own pins; this way I make sure I am not spamming my followers and also to be present in their feed every day.
Also, there is a Chrome extension that will make your life a loooot easier: whenever you are on a website or even Pinterest, and you see something you like, schedule it! Just press the little tail icon and it will show you the images available for pinning. From the pinning board, you can also choose to post to Twitter or your FB page and add a description.
Tribes: This is one of the coolest and more original features Tailwind has. You can join tribes for free and works the same: you schedule pins and other people will schedule yours. You can give a quick search at the tab "Find a Tribe". There you can see choose a niche and then some keywords, and Tailwind will recommend available tribes. Some tribes will let you join immediately, others might be more selective and therefore you will have to request to join, usually by sending a message to the admins explaining why you want to join their tribe. You can also create your own tribe and set your own rules!
Insights: If you are into data like I am you would enjoy Tailwind Insights. There's so much happening here: you can learn about your profile performance, they will give you board and website insights and suggestions about your pins. For instance, did you know your Pinterest profile might be incomplete? Oh yes, that was a surprise for me. Honestly, and despite all the years I've been using Pinterest, I did not know that you can put descriptions and change covers to your boards! It also shows you organic activity and referral traffic, very important and in my opinion, the ultimate goal as a business manager. You want to know who's "talking" about you, what are they saying and where are they coming from, right?
Tailwind for Instagram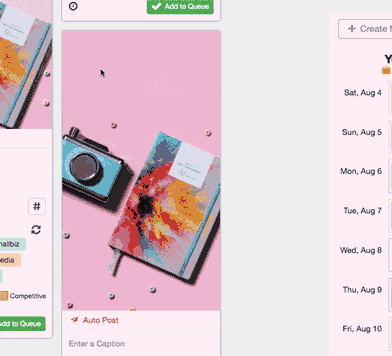 Recently, Tailwind became one of the few schedulers that can post automatically on Instagram, which comes to save a lot of time and stress for many people. The one things I don't like about other schedulers that can't auto-post is that if I am busy doing something else at that moment, I will have to wait to post. With Tailwind for Instagram, you can auto-post on your feed, auto crop your photos with the "smart crop" feature to adjust your photos to Instagram standards, and the most recent and exciting development is that now you can also schedule on stories. As you well know, the key to getting Instagram followers is consistency!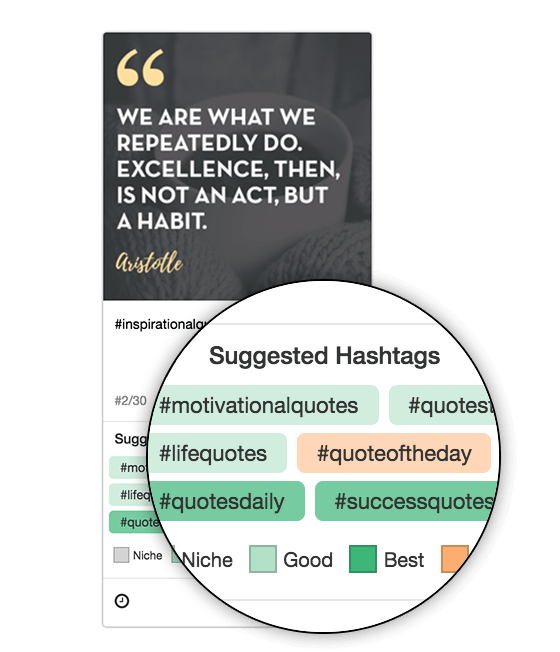 Hashtags: Oh yeah! This is my favourite feature of all, to be honest! Just start typing a description and the app will show a list of relevant hashtags and it will suggest more as you go along, it will even show you how many posts are within that category, and it will also show you how competitive they are.
Membership Options
Let's talk about memberships now. We can't expect that a product like Tailwind, that does so much for you, to be free, but fear not! You can start with Tailwind thanks to this gift I am giving to you right here. That is enough to cover one month of Tailwind which is $14 per month or $119 per year. It is best to buy the annual option because then you can get a discount and really, who doesn't love discounts!
Finally, note that there are many educational resources on the Tailwind website. There is a webinar and also a very ample knowledge base, but for me, it is always better to try and test until you get the hang of things, which is not bad at all!
What do you think? Is Tailwind something that can be helpful to you? Remember that you can reach out at any time and I will try to help you as soon as possible!